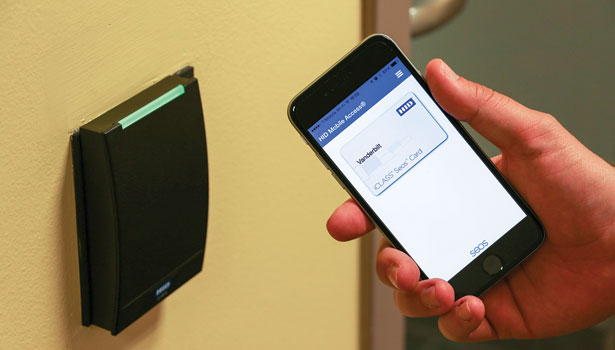 Why Install Access Control?
For the past 15 years, KeyBro Security Solutions Ltd. has installed access control and intercom systems for many businesses of all sizes. As time has progressed, so has the electronic security industry and we have stayed educated on the industries top brands to better serve our clients and their specific needs.
Access Control will provide you with the most efficient and convenient way to secure your property. It also means you will never have to deal with the inconvenience of keys again. You and your employees can now be issued a card/key fob, pin-code, or both in order to access the building. Some systems now offer bio-metric capabilities which means the users fingerprint now becomes their access credential.
Once the system is installed, any door that is tied into it will remained locked unless unlocked by an authorized user, time schedule, from a computer using the software, or even from your smartphone using a supported app. If at anytime a card is lost or stolen, or if an employee leaves without turning in their credential, simply delete their information from the software and they will no longer have access to the building.
Some Access Control systems offer even more flexibility. For example, employees can be programmed to have access only to certain doors within system of your building and they can be tracked during the day to see where and when they entered an area. Other restrictions can also be made by only allowing access during certain times, setting user expiry dates, and using the anti-passback feature which prevents users from entering a certain area more than once per day.​
Systems can be integrated into new or existing surveillance cameras and burglary alarms bringing all of your security into one simple to use platform. what ever the application, there is a simpler solution for it!
Contact Us Today
Whether it be at your home, place of business, or at our shop, we will be happy to assist you. Contact us for sale inquiries or to schedule a service call.